Insects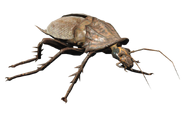 Radroach
One of the most common creatures of the wastes, they are mutated versions of the great american cockroach. They are most commonly found in underground areas or sewers, however they can be found in almost any dark area assuming nothing bigger is nearby. They're mainly carrion eaters, but they'll attack living creatures if given the opportunity. Compared to their cousins found on the coasts, the midwest breed are capable of being much larger, up to the size of an adult human. However one much larger, about the size of a car, was encountered by the BOS over 80 years ago.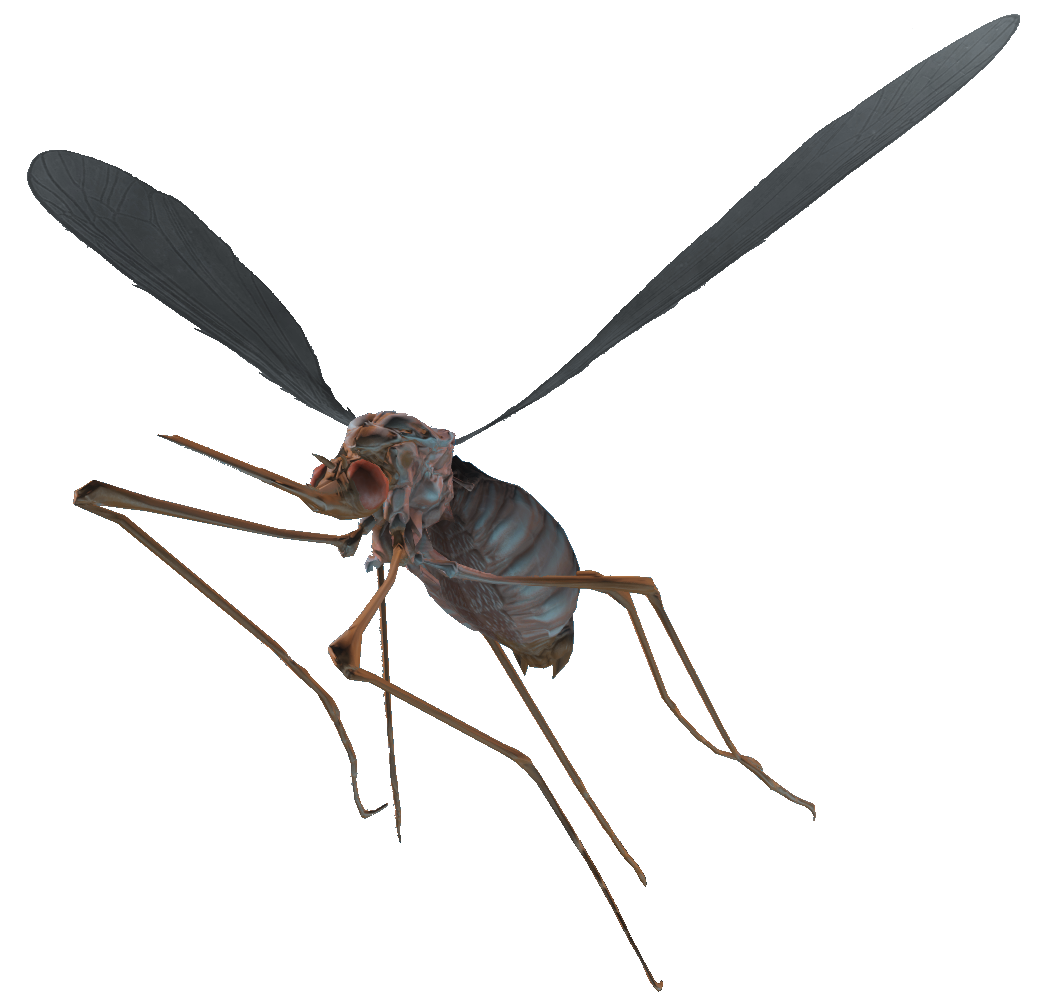 Bloodbug
A fairly common sight in the wasteland, Bloodbugs are the mutated forms of mosquitoes. They can be found almost anywhere, but the young tend to be near water due to the circumstances of how they start life. They subsist by feeding on blood from any creature they find, however they do seem to have a taste for brahmin blood. They also posses the unique ability to irradiate blood they drink and spit it back at their victim.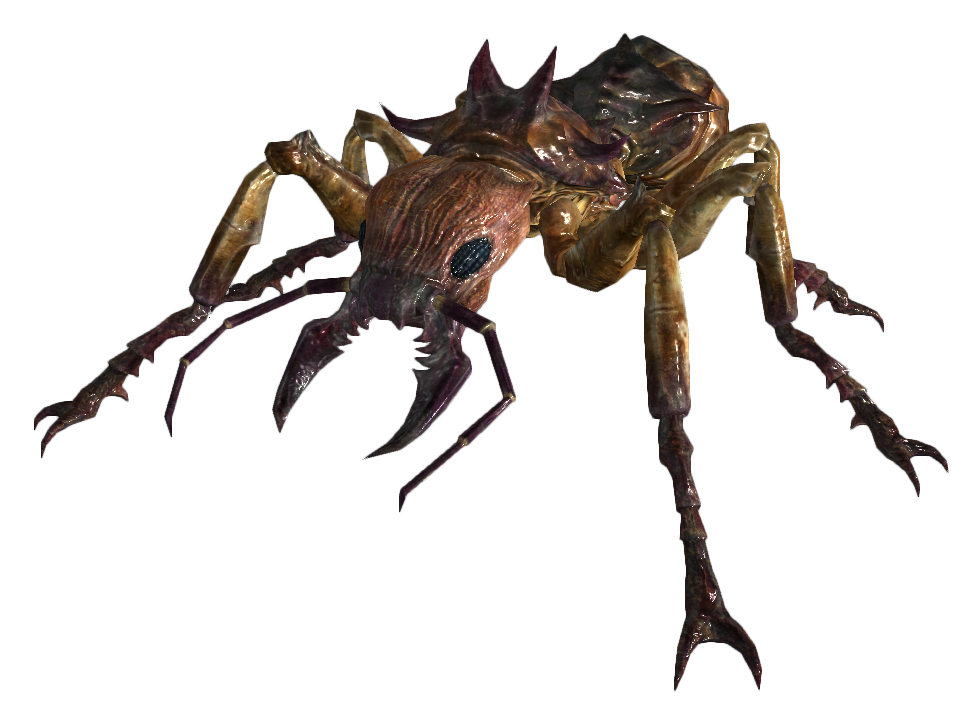 Giant ant
Not as common due to the large amount of time they spend underground, giant ants are as the name suggests mutant ants that have grown to gigantic sizes. They eat a diet of carrion, other insects, and small animals. If their antennas are severed they grow confused and attack anything near them. They aren't that tough and most small arms can take them, however their mandibles can cut through weaker armor and potentially bone. The ant queen is much larger and more dangerous, she can spit acid and is able to lay hundreds of eggs a day.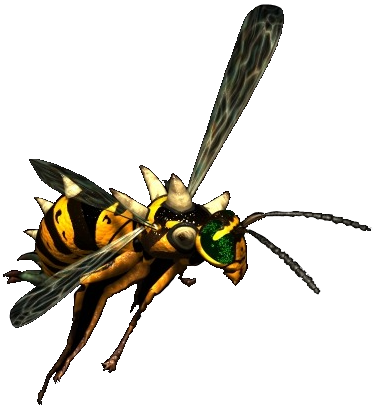 Giant wasp
Very large and aggressive mutant yellow jackets, radiation has made these already aggressive predators even more aggressive. They will hunt down anything not a yellow jacket in their territory until either it or they are dead. They tend to be found in small groups of about 3-4 yellow jackets, their venom is powerful enough to drop 2 adult brahmin. They are predatory and will eat almost anything, but they prefer the taste of other insects.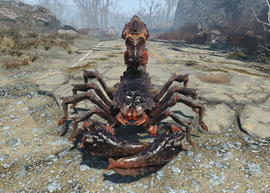 Radscorpion
Giant mutant scorpions that mutated from the emperor scorpion often kept as pets, they have become larger, faster, and deadlier. The vary in size from about the size of a hat, to the size of a Corvega, though some tell tales of even larger ones. They tend to favor using their stingers to their claws, but you should still keep an eye on them. Antidotes to their venom and most other poisons are able to be made from their tail. You're able to find these scorpions mainly around abandoned buildings, though they are nocturnal you can occasionally find them wandering during the day.
Bloatfly
Mutated versions of blowflies, they are commonly found near water and or water sources. Surprisingly aggressive they will shoot their own larvae at hostiles, these larvae sport a rather large spine that can do a lot of damage. No one knows how, but they seem to have an unlimited supply of larvae. They will always be found in a group and tend to swarm anything that attacks them.
Widow maker
These terrifying creatures are giant mutant spiders, they are usually found in dark places, but can be found in buildings as well. You'll never see them coming as they tend to creep up on their prey from hard to see or reach areas, their venom is able to paralyze a grown man for several hours. Despite the large size, these creatures usually avoid humans and only attack them if they feel sufficiently threatened. They tend to eat insects and mole rats, however they have been known to eat any small or young animal they can catch. Another note, they tend to be solitary creatures, however they have been seen in groups.
Last edited by Wolfstorm on Sat Feb 04, 2017 11:45 pm; edited 4 times in total
Aquatic
Lakelurk
Lakelurks are a mutation of the snapping turtle, they've gained a more humanoid shape and new abilities. The main ability they gained was they can produce sonic waves that stun their prey, they then use their claws to finish their prey off. Although they attack humans, this is because they are highly territorial and aggressive, they actually subsist on eating fish and insects. They tend to live in small family groups of usually 2-3, there also exists a more "elite" form of the lakelurk commonly called a lakelurk king, they are the leaders of the species and are thus stronger and more intelligent than their lesser brethren.
Catfish
Only found within the Mississippi river and its tributaries, these monstrous fish are mutations of Flathead catfish. For some reason their mutation led to them growing limbs, however they function similar to pre war bears(IE they can stand on two legs, but not for long). Their main hunting tactic is ambush, to compliment this, they are able to use short bursts of speed to catch their prey and overpower them. They usually eat fish and radstags, however they will eat almost anything if hungry enough. They are fairly docile and rarely go beyond the river and its banks, thus human confrontation is rare.
Lake serpent
These serpents prowl the great lakes in search of food, they are giant eels that have adapted and mutated to gain their current form. They can only be found within the great lakes, though some have been found in nearby connected lakes and rivers. With a diet of fish and lakelurks they rarely are seen by humans, however they zealously guard some shipwrecks at the bottom of the lakes due to their tendency to use them as nesting grounds. Adults are typically 15-20 ft long, however a tribe living on isle royale worship a serpent that if the legends are true is over 50ft long.

Fish
Tend to have little or no significant mutations. Those that do have any usually have sores on their sides. Range in size from tiny minnows to massive sturgeons.
Dobhar chu
Named after the legendary irish creature, these beasts are the descendants of the otter population. They have remained relatively unchanged over the past two centuries, their only noticeable changes are an increase in size and  their jaws became elongated. Now standing at about the size of the average dog, they are able to hunt much larger things, however the main part of their diet consists of fish. Despite their fearsome appearance, these river dwellers are quite friendly, they are highly social and tend to congregate in small groups. They mainly live in non polluted parts of rivers and lakes leading many to consider it a good source of water if there's Dobhar chu nearby.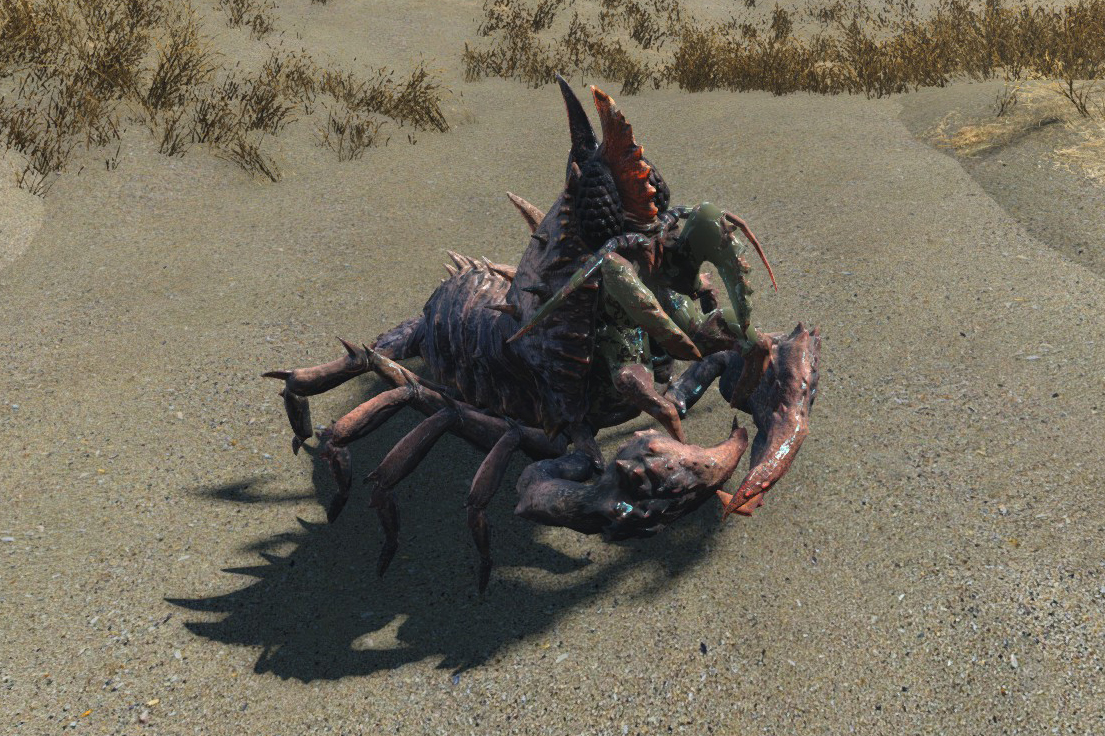 Crayfish
Similar to their lobster cousins, crayfish have grown in size. They also have larger claws and have adapted a more upright position. However compared to their lobster cousins, they are smaller. Despite their size growth they are still mainly carrion eaters, however they'll also eat aquatic plants and fish. They aren't particularly aggressive, however this does not mean they are passive creatures, they will attack if attacked or you get too close to their tail when holding eggs. Grilled crayfish is a popular food for people that live near or on the rivers and lakes.
Last edited by Wolfstorm on Sat Jun 16, 2018 8:55 pm; edited 6 times in total
Reptile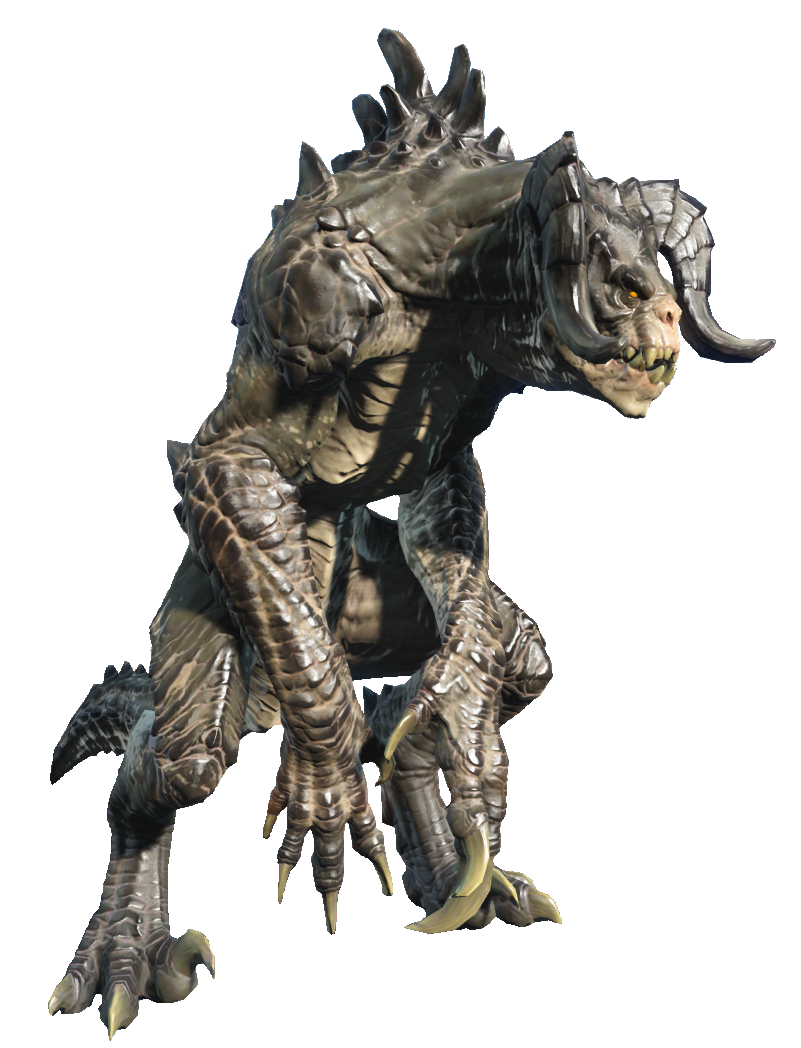 Deathclaw:
These massive and terrifying creatures are the apex predators of the wasteland and are not to be taken lightly. They can be found almost anywhere, but they do seem to congregate near areas sheltered from the elements and large caves or caverns. Carnivorous beasts, they'll eat any animal they can catch, which with their capabilities is fairly limitless. They hunt in packs that generally number anywhere from eight to 20 and are lead by a breeding pair of a alpha male and a matriarch, the alpha is the only male that can mate with the female members of the pack. They lay their eggs in dark, sheltered places and a mother deathclaw will fight to the death to defend her young, young deathclaws stay near their parents until they can sufficiently defend themselves. Despite a lack of vocal cords, deathclaws are able to growl and shout, also deathclaws prefer using their own claws to sharpen their claws, however they will use the ground to sharpen them if necessary.
Iguana: The iguana has remained relatively unchanged over the years, however they are hard to find because they are commonly hunted for food. The iguana population is descended from iguanas that escaped from pre-war pet stores after the great war, one of their survival tactics is to shed their skin and use it as a decoy to escape predators.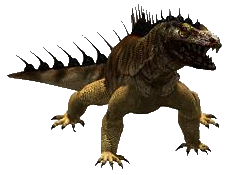 Komodo dragon: These large lizards are originally native to the island of Komodo in Indonesia, however the population in the midwest results from Komodos that escaped the zoo. They are still carnivores and commonly hunt radstags, their main attack method is to use their large, serrated teeth to inflict massive wounds. They tend to nest in self dug holes, the young stick to the trees and hide because of threats from other predators and even other komodos as they are cannibals if no better source of food is found.
Avian
Raven: One of the few creatures left physically unchanged by the effects of radiation, if radiation has altered them, no one has figured out how. They are able to be found across the wasteland, however they are more common around dead bodies and more civilized areas. Highly opportunistic creatures, they'll eat pretty much anything from carrion to food waste. They will often follow wolves and eat off of the creatures wolves kill after the wolves leave.
Thunderbird: These creatures were once eagles, however due to experiments done on them they mutated/evolved into their current state. Experimented on with the intent to be used as aerial support for troops that'd be cheaper to produce than planes, however the project was canceled after it seemingly failed to produce successful results. The scientists didn't know that their experiments actually had succeeded to a degree, although the eagles didn't change quickly, when introduced to radiation they did. They have grown considerably larger now standing at about 1.9 m(about 6 ft 2) with a wingspan of about 5-6 m(about 15-20 ft). They subsist on a diet mainly consisting of fish and lakelurks, however they'll also eat radstags and other smaller birds. The kings of the sky they can be found most commonly in the sky, but when they are found not flying it tends to be on high up locations able to hold them and their young. Called Thunderbirds due to them commonly appearing during thunderstorms.
Hawk: Almost all pre war species of hawks have surprisingly survived the great war, however due to most being migratory red tailed hawks are still the most common. Most have remained around the same size, but some have grown larger to accommodate the larger prey. Most commonly feeding on giant rats and other small animals, but they also eat many of the insects species, carrion and fish. Similar to falcons some are trained by tribes as hunting birds and scouts. Commonly seen perching on old power line poles and trees.
Falcon: Only two species of falcon survived in this part of the country, they are the peregrine and gyrfalcon. However the gyrfalcon is a rarity in the great lakes region since they are arctic dwellers, this leaves only the peregrine as a more common one. Commonly nesting on areas with ledges, thus they are often found on the roofs of tall buildings and bridges, also found near water sources and forests. Their diet consists of smaller birds, though this is mainly ravens nowadays. They've grown slightly larger, however this doesn't mean they've become slower, they've maintained their high dive speed and have actually increased it somewhat. Some tribes have trained peregrines as hunting birds and scouts.
Vulture: Descended from turkey vultures, being they are the last known species of vulture in the midwest, they are often just called vultures. Commonly found throughout the wastes, they are far more common near farm fields, woodlands, highways and permanent water sources. Exclusively feeding on carrion, however they aren't picky on the type of carrion and will most likely eat any carrion they can find. They have a minimal or no nest at all, roosts in large groups and at night lowers body temperature. Has no head feathers to reduce the chances of feather fouling that can occur from sticking their head into corpse cavities to eat, also one of if not the only birds with a  higher sense of smell that they use in order to track down carrion.
Mammals
Raccoon: Raccoons haven't really changed at all, they are still the crafty critters they were pre war. They live on their own or occasionally in small groups of the same sex, they can be found almost anywhere and have been seen living in fallen trees, old vehicles and underground dens. Their diet consists of fish and crayfish primarily, but they also eat some plants and bird eggs as well as young or baby animals. Incredibly crafty, they have a knack for opening containers, doors and latches to get food from inside, also mainly nocturnal. Raccoons seem to have not had any major mutations, and if there are any mutations, they are very minor ones.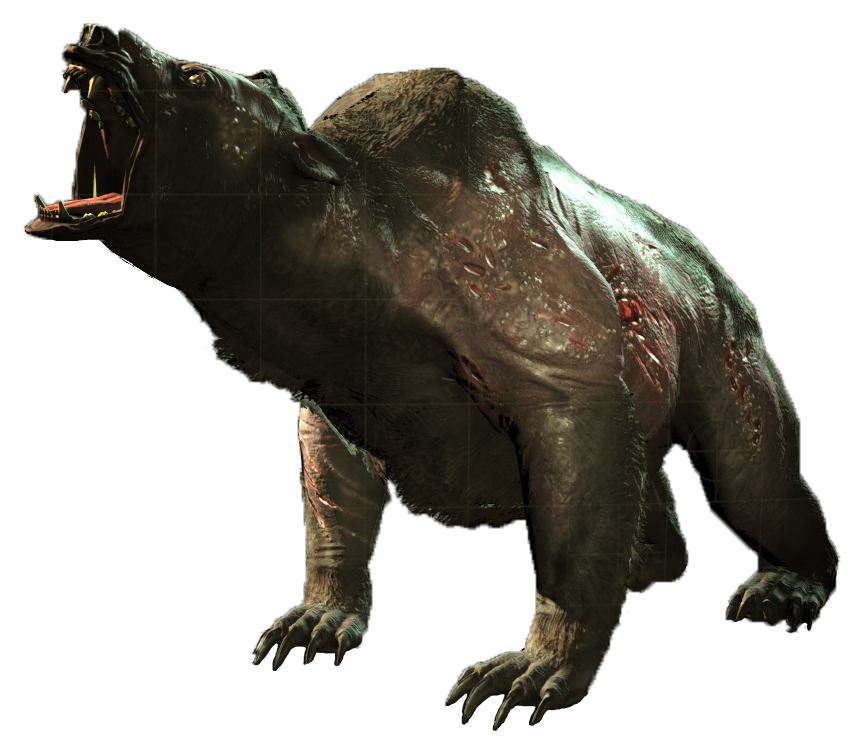 Yao guai: The descendants of the black bear population, they were named yao guai by descendants of chinese prisoners. Found in forests, wetlands, prairies and farmlands usually, but can be found across the wasteland. Living on a diet that consists of fruit, berries, fish, small to medium size animals and carrion. The exact nature of their mutation is unknown, but some theorize that they have undergone a process similar to ghoulification. Despite often being found alone, when with others of their kind they demonstrate a gentle, familial bond. They hibernate during the winter months and female yao guai give birth during this time, they are able to be tamed to a degree and exhibit an odd sometimes friendly relationship with bloatflies. The further north you go, the more fur yao guai have retained to deal with lower temperatures.
Mole rat: mutated from the naked mole rat species, these creatures have become far more aggressive. Burrowing creatures, they often are found underground or coming up for air or to attack prey. They feed on roots primarily, but they will also eat insects and small animals. They've grown larger thanks to radiation and as a result have become omnivores to support their new size. Lives in colonies similar to ants with a queen at the top of the hierarchy then workers below her. They have a high pain tolerance and are long lived. They are able to be tamed and trained leading to some being kept as pets.
Coyote: Similar to their cousins, dogs and wolves, coyotes have remained relatively the same over the years. They are found wandering the wastes, but tend to be found close to urban areas, forests, farms and highways. They subsist on a diet consisting of small animals, bird eggs, insects, fruit and carrion. Still living in a pack with an alpha leading the pack, the den mother stays behind to watch over the pups while the pack is off hunting.
Radstag: Mutations of the native deer population, aside from mutations they haven't behaviorally changed much. Able to be found pretty much anywhere, however they are nomadic and are constantly on the move. Feed on whatever grass is left, fruit and crops, constantly on move for new food sources. Their mutations consist of a second functional head and two extra nonfunctional legs, but the eyes on the inner part of the heads are blind. One of the two most common prey animals of the wasteland, this has made them quite skittish, however they can be quite dangerous if pushed to violence.
Wolf: Very similar to their cousins and descendants, wolves are largely unaffected by radiation. They are most often found in the forests and prairies, but without humans around they've reclaimed much of their historical range and can be found further south than pre war times. Their diet consists of small to large animals, berries, insects and fish. Living in packs of primarily family members that can range in size from two to 15 wolves, these packs are led by a breeding pair of wolves. Due to the lack of exposure to humans as well as reclaiming lost territory, wolves have slightly moved past their instinctive fear of humans.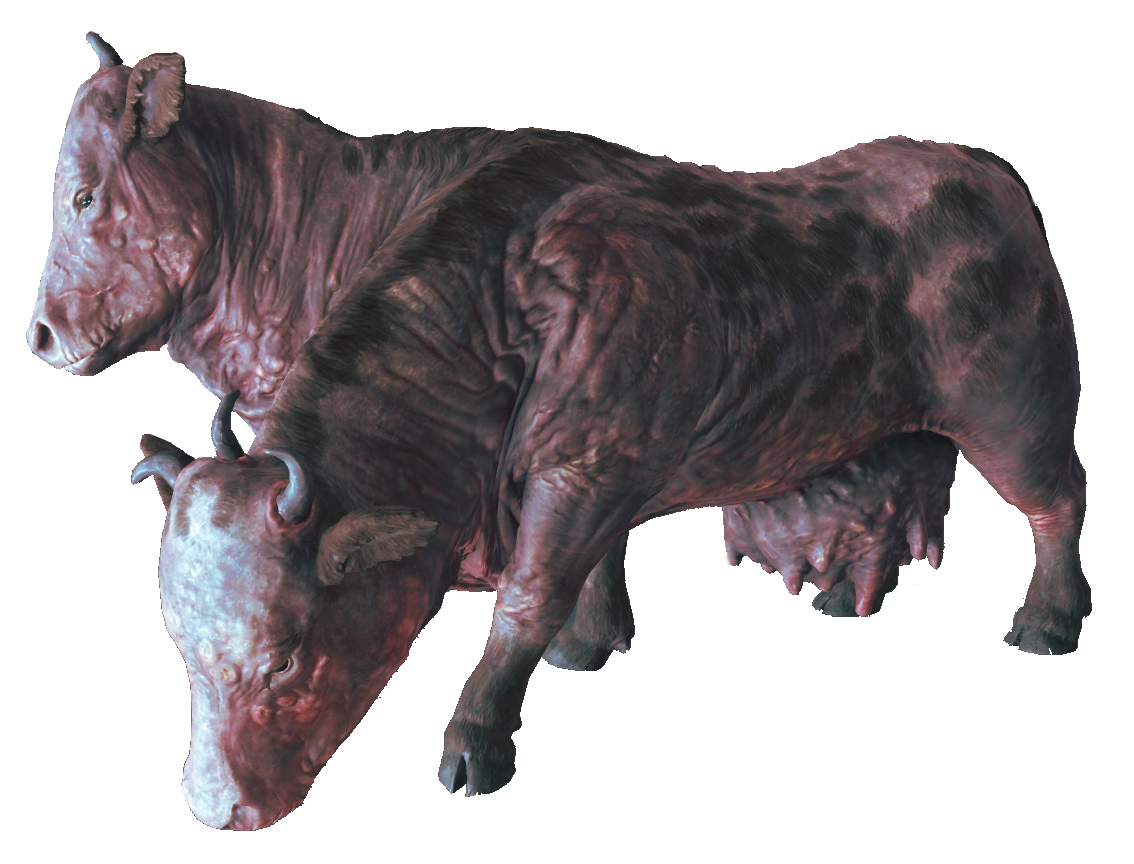 Brahmin: The mutated descendants of cattle, brahmin still serve a major role in human society which has been added to compared to their pre war purpose. Found across the wasteland, wild ones can be found on the plains and steppes while domesticated ones are found near or in settlements or as pack animals in caravans. Has a similar diet to their pre war version which consists of grass and wild fruit. Radiation has led to the brahmins mutations which include a second functional head, four additional stomach compartments and another heart. Their are also some gender specific mutations, bulls have two additional testicles and females have larger udders. Some of their parts are used in many items and have other uses, some examples include their hide being used to make leather and their hair being used to make clothing. Also one of the most common prey animals alongside the radstag.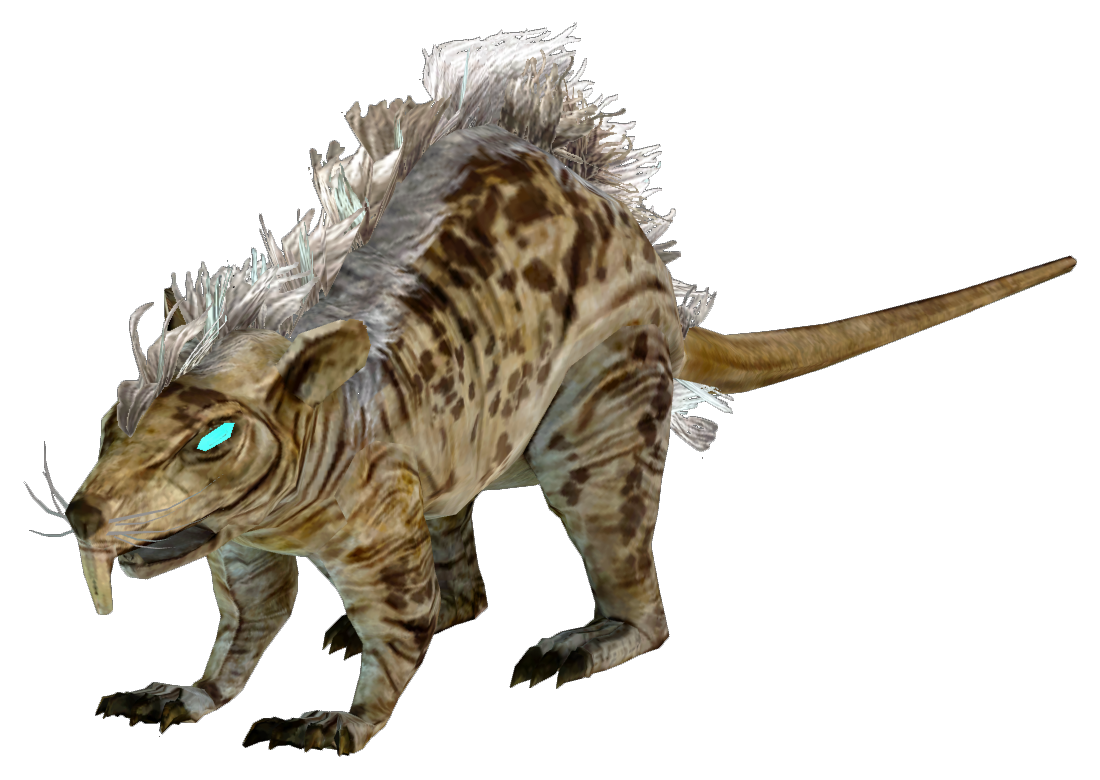 Giant rat: As the name suggests, these creatures are a much larger variant of the rat species. They can be found anywhere near human inhabited areas, this is because they mainly feed on carrion, human food waste and insects. They can range in size from being slightly larger than a cat to being about the size of a mole rat, however a much larger variation about the size of a dog used to be more common, but now due to the brotherhood it's on the verge of extinction. The smaller variants are incredibly common due to their fast reproduction rate, this means they are still pests. Also incredibly dangerous as they still are disease carriers.
Horse: Unlike what many claim, horses are not extinct, at least not in the midwest, they have only minor mutations. Wild horse herds roam the plains and steppes that brahmin herds also frequent, domestic ones are usually found near settlements that are further out from urban areas. They tend to feed on grass and other plants, domestic ones are also often feed grass and some are fed carrots and other crops. The mutation all horses developed that contributed to their survival was the development of the ability to vomit allowing them to better survive radiation sickness and some other diseases. They still are able to sleep standing up and laying down. Ponies and miniature horses are extinct due to them not being able to run as fast as horses, also most breeds of horses survived.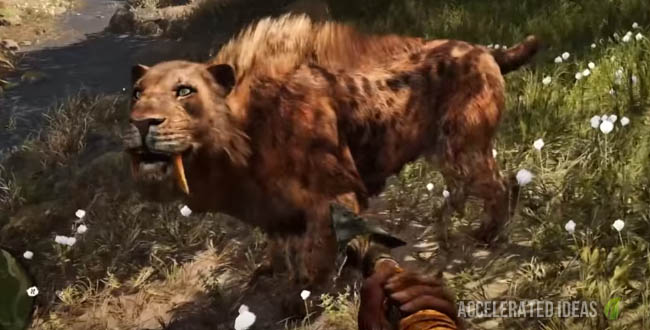 Mountain king: It's not hard to figure out what these frightening creatures once were, they are the mutated descendants of the cougar(mountain lion, panther, puma) population. They are usually found in river valleys and woodlands, but they can be found on mountains as well. These creatures are carnivores and thus feed on small to large creatures, they do seem to prefer radstags to any other prey. They've grown much larger to accommodate the the larger prey sources and their front teeth have become elongated making them similar to the prehistoric saber tooth tiger, they also for some reason have shorter tails. They only need to hunt once a week if they consistently bring down a large creature. Solitary unless it's mating season, then you can find males and females together, females raise cubs on her own.
(ignore the tusks)
Titan: These creatures were once the mighty buffalo, descended from the wild herds that roamed South Dakota and nearby Montana. These creatures are found across the plains of the Dakotas and some are trickling into western Minnesota. Feed on grass and other wild plants, constantly moves across plains searching for food. They've grown into massive almost dinosaur like creature, their legs have bulked into trunk like limbs, their tail has elongated and bulked up and finally they grew some more horns. They live in massive herds that move across the plains and have gotten closer to their original numbers.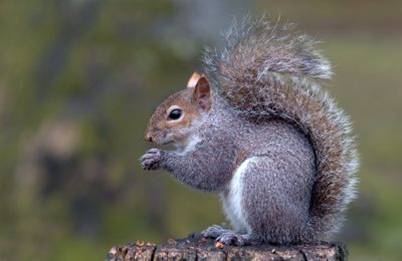 Squirrel: The three pre war squirrel species have somehow all persisted and are relatively unchanged, they are quite common as shown by the frequency of squirrel food products. Wherever you can find trees, you can find squirrels, though you will find more in forests and trees near semi urban areas. Feeding on a diet of tree seeds and nuts, fruit, corn, other wild plants and bird eggs. All species build nests made of leaves in the trees that they live in or on, spend most of lives in or near trees.
Fox: Similar to yao guai, foxes seem to have undergone a form of ghoulification, this is odd considering all of their cousins in the canine family have remained relatively unchanged. Found in forests, prairies, cities and farmlands, they live in dens that are semi hidden, huli jing live in dens near radiation high areas. They are omnivores that eat small animals, berries, fruit, insects and fish. Of the two subspecies the regular one is less mutated with the only visible mutation being fur loss, however the huli jing are similar to glowing ones in the fact that they glow at certain parts of their body, they also lost fur and their remaining fur turned white. Also similar to glowing ones huli jing give off and are healed by radiation, regular ones are only similar to ghouls in the fact that they have much longer lifespans and were altered by radiation. Mate for life, this means you'll find them in pairs, and yes foxes are still able to reproduce.
Badger: Similar to mole rats, these creatures spend most of their time underground, but these are less aggressive and eat mole rats. As stated before, these creatures are usually underground, but when they're above ground, they tend to be found near roads, fields, farmlands and on the edges of woodlands. Although they mainly eat mole rats, this is not their only prey animal, they also feed on giant rats, insects, bird eggs and iguanas. to cope with the new world, badgers gave up their sight in order to enhance their other senses in order to better hunt mole rats. Known to occasionally work with coyotes in order to catch their prey, also can enter a pseudo hibernation state where they sleep for 20-30 hours to conserve energy.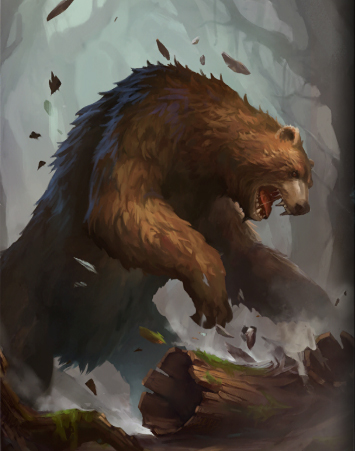 Grizzly: The descendants of the grizzly bears of the dakotas, Their only visible change is an increase in size and some fur loss. Usually found in forests, subalpine meadows and open plains, also only really found in the dakotas as they've come over from montana. Omnivores, however they lean closer to being carnivores with a diet consisting of fish, large mammals, carrion, berries, and other fruit. Similar to their yao guai cousins, grizzly spend the winter months hibernating in their dens, also similar to yao guai this is when female grizzlies give birth to cubs. These are in between the size of the yao guai and the snow demon making these creatures massive, they stand at shoulder height at about five feet tall.
Moose: Descended from the moose population that was found in the northern parts of Minnesota and the southern parts of The Wilderness. Usually found in or near forests and wetlands, they've expanded their range to include most of northern Minnesota and parts of North Dakota. They remain herbivores and feed on a diet that includes aquatic plants, grasses, wild plants, twigs and buds. It's mutations are more spiky antlers and some leg fur has been lost. Despite it's terrifying appearance, it's quite docile, the appearance is only to deter predators. These creatures stomachs are able to produce heat using fermentation and they have a four chambered stomach.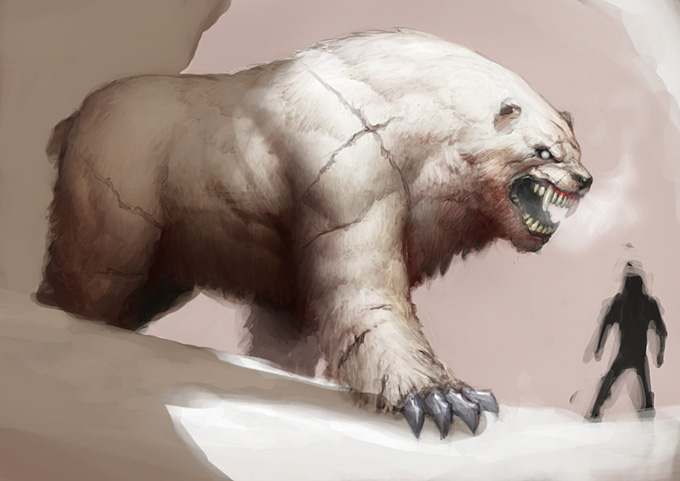 Snow Demon: These creatures were once polar bears, but the harsh effects of the apocalypse has forced them to be behaviorally different in some aspects. Found mainly in the more uncivilized parts of The Wilderness, but some have been sighted near the Lake of the woods area looking for food. Forced to move south and change their diet due to the near extinction of seals, some still live near the arctic and feed on seals, but most are more south and feed on radstag, moose, eggs, berries and carrion. They have grown to be about six feet at shoulder height and an overall length of about 9-12 ft, surprisingly they only need to eat two to three times a week to keep going. Wanders the wastes on a constant search for food, females raise their cubs on their own and sometimes will even adopt orphan cubs they find. One of the very few creatures that can hold its own against a deathclaw, what's even more surprising is that a single snow demon can kill a deathclaw relatively unharmed.
Last edited by Wolfstorm on Sat Feb 24, 2018 5:20 pm; edited 5 times in total
Dogs
Dogs will often be found either in feral packs, or as companions to people of the wastes, the following are only a few breeds present. However many of the smaller and weaker breeds have died off
Pre War Breeds
German shepherd: Before the war this breed was commonly used by both the police and military. One of the more wolf like breeds, they're medium to large and commonly their fur is tan and black, but other colors include pure black, sable and pure white. Post war they are often used as guard dogs, however some use them to aid their scavenging.
Cattle dog: Often used as a herding dog pre war, also one of the smaller breeds left. about medium size with two main colors, red and blue, however sometimes black, white or tan patches are found. Post war they are still used as herder dogs, usually to herd brahmin, but sometimes used to herd other creatures.
Border collie: Another breed that what used as a herding dog, along with the cattle dog, these are one of the smaller dog breeds left. Medium sized dogs, they are usually black and white, but they can be almost any color and or pattern found in other dog breeds. Post war they are the other breed commonly used for herding, but they are also used for guarding and scavenging do to their high intelligence.
Boxer: Used mainly by the military and police pre war, these dogs are usually medium sized. Fur color is usually fawn or brindle, though a white coat can be born, but these are usually killed due to the bad health associated with it. Post war they are used as guard dogs most often, but some have found other uses for them.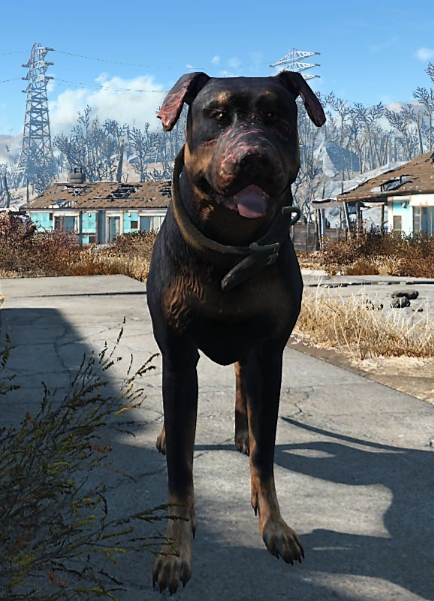 Rottweiler: Pre war it was used as guard dogs and occasionally as police dogs, usually medium to large size. Fur is most often black with mahagony, post war they are used as guard dogs and herders.
Irish wolfhound: Pre war used as mainly pets, a far cry from their original purpose as wolf hunting dogs. The tallest of all surviving dog breeds, these are very large dogs with fur that is usually grey, brindle, red, black, white, fawn and wheaten. Post war they have to a degree reclaimed their original purpose, some are used to hunt wolves, but most are used as guard dogs.
Siberian husky: Pre war these dogs were mainly used as sled dogs, could easily pass for a wolf. Medium sized, their fur colors are usually black and white, copper red and white, grey and white, white and a rare colouration known as agouti. Also known to occasionally have a fairly common eye condition that leads to two different eye colors. Post war they are still used as sled dogs up north, but also as hunting dogs.
St bernard: Pre war they were used as rescue dogs, one of the largest breeds post war. Fur color is usually either red with white or mahogany brindle with white. Post war they are used as rescue dogs and guard dogs in the north. Some wear the barrel on their neck like the common image shows them wearing.
Alaskan malamute: Pre war these dogs were used as rescue and sled dogs in northern regions. They are a large dog breed and are slightly related to Siberian huskies, fur color includes gray and white, sable and white, black and white, seal and white, red and white or solid white. Post war these are used as sled dogs in the north to haul goods and for transportation.
Great pyrenees: Pre war this breed was used as a livestock guard dog, they are a large breed. Their fur is most often white with shades of red, gray or tan around the face. Post war they are used as livestock guards still, also occasionally used as a guard dog.
Labrador retriever: Pre war they were used as hunting dogs and to a degree by the military. Medium to large in size and often broken down into three subtypes based on color, the subtypes are yellow lab, chocolate lab and black lab. Post war used as hunting and guard dogs, also used in scavenging. Despite being separated into subtypes, dogs of different colors can all be born in the same litter.
Post war breeds
Mongrel: One of the more common dog breeds, these show what radiation can do to a creature that doesn't mutate. Usually found in highly aggressive wild packs led by alphas, they can however be found tamed and working with raiders and some other people. Due to radiation they appear highly emancipated and skeletal, they also have lost almost all their hair.
Vicious dog(Fallout 3 breed): Visually similar to pitbulls, these dogs are somewhat of an in between of mongrels and dogs with little or no hair loss. Constantly moving in packs on the search for food, so hungry that they'll attack pretty much anything, including other dogs. Often used as guard dogs by raiders and some factions, patches of skin are visible.
Hybrids
Wolf dog: Sometimes wolves and dogs come across each other, although they usually will fight occasionally the two will mate and these are the result. Sometimes larger than both it's parents, depending on appearance can be anywhere from appearing to be a regular dog to being mistaken for a wolf. Form larger packs than wolves, have greater endurance and a sense of smell rivaling scent hounds. Naturally more healthy than dogs , their personality and behavior is a gamble based on how high the dog or wolf blood concentration is.
Last edited by Wolfstorm on Sat Feb 24, 2018 4:44 pm; edited 2 times in total
Abomination
Centaur: These horrific beasts are another creature resulting from FEV, often seen accompanying super mutants. Usually found where super mutants are, if not with super mutants, they are found near irradiated areas. Three variations exist, the two headed variation that has a humanoid head and a dog head and feelers on their underside, the second variation is the one headed variation that is most common, they have one humanoid head with three tentacle like tongues and can spit their acidic saliva, the final variation is the evolved centaur, they are visually similar to the one headed centaur, however these are more muscular appearing and have tumors riddling their back. The two headed variation is aware that the heads are separate creatures and the dog head tries to attack the humanoid head.


Similar topics
---
Permissions in this forum:
You
cannot
reply to topics in this forum